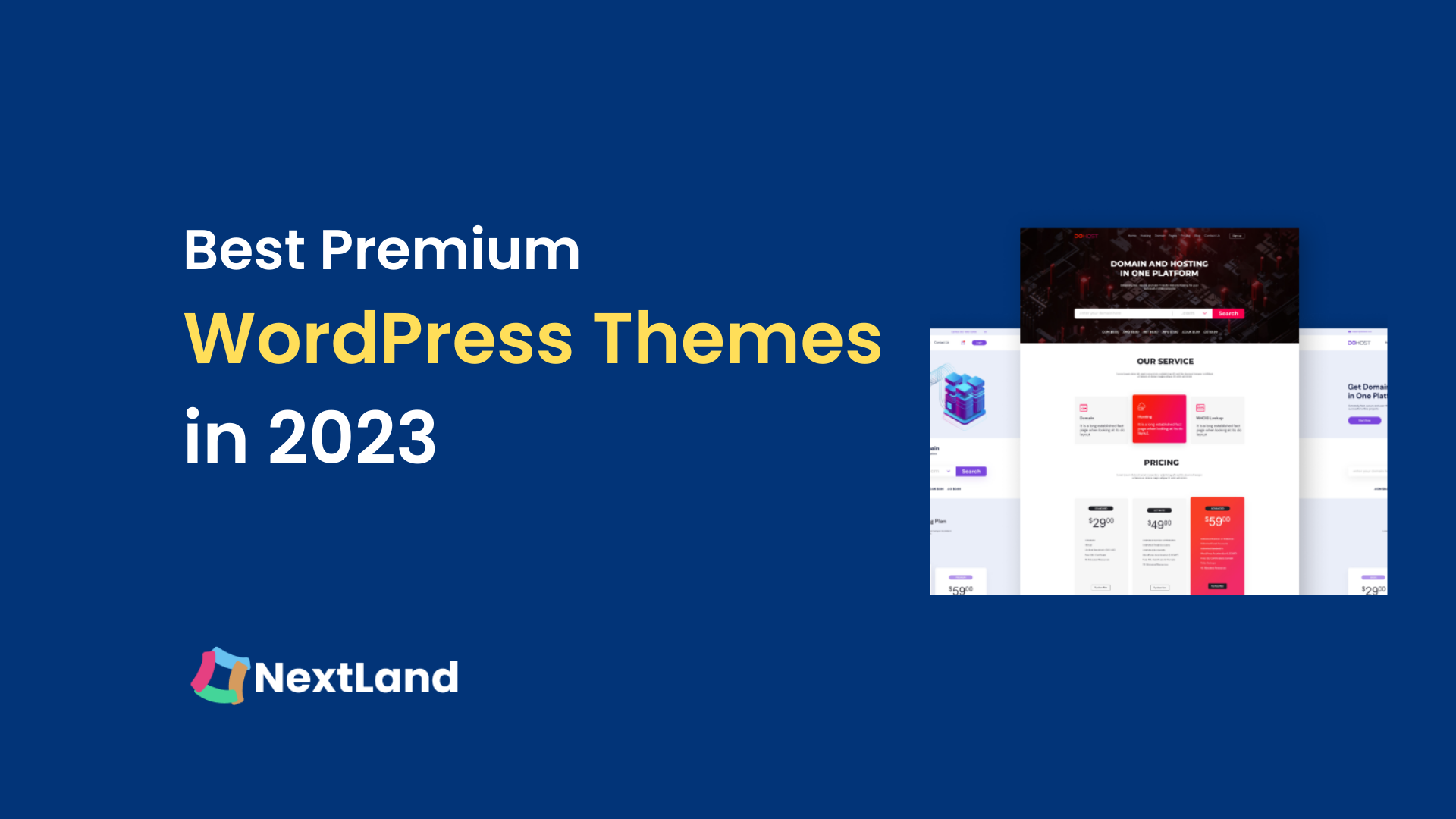 7 Best Premium WordPress Themes in 2023 
As the popularity of WordPress continues to soar, finding the perfect WordPress theme for your website becomes increasingly crucial. A well-designed and feature-rich best premium WordPress themes can elevate your website's aesthetics, functionality, and user experience to new heights.
In this article, we will explore the 7 best premium WordPress themes in 2023. Whether you're running a business, blog, or e-commerce store, these themes are carefully curated to help you make a lasting impression and stand out from the crowd.
So, let's delve into the world of premium WordPress themes and discover the perfect match for your website's needs in 2023.
What is the WordPress theme?
A WordPress theme is a collection of files that determine the overall look, layout, and functionality of a WordPress website. It is essentially a template that controls the visual presentation of the website, including elements such as colors, typography, page structure, and widget placement.
A WordPress theme allows website owners to customize and control the appearance of their website without the need for extensive coding knowledge. Themes provide a user-friendly interface for managing design aspects, making it easy to create a visually appealing and professional-looking website.
Themes can be selected from a wide range of options available in the WordPress theme directory or from third-party theme marketplaces. They can be customized further using theme settings and options or by editing the theme's code. This flexibility allows website owners to create unique and personalized designs that align with their branding and cater to their specific needs.
In summary, a WordPress theme is a template that determines the visual presentation and layout of a WordPress website, providing users with control over the design and appearance of their site.
Features that a Premium WordPress theme should have.
By considering these features, you can select a WordPress theme that aligns with your website's requirements, goals, and user experience expectations. A WordPress theme should ideally have the following features:
Responsiveness: A responsive theme adjusts its layout and design to ensure optimal viewing and functionality across various devices and screen sizes, including desktops, tablets, and mobile phones. This feature is crucial in today's mobile-driven world.
Customization Options: A good WordPress theme should offer a range of customization options, allowing users to easily modify colors, fonts, backgrounds, and other design elements to match their brand and preferences. Customization should be intuitive and accessible, even for users without coding knowledge.
Page Builder Compatibility: Integration with popular page builders like Elementor, Divi, or Beaver Builder enables users to create complex layouts and customize their websites without coding. This feature provides greater flexibility and empowers users to design unique and engaging pages.
SEO-Friendliness: An SEO-friendly theme is designed to be easily crawled and indexed by search engines, ensuring better visibility and ranking in search results. It should have clean code, proper heading structure, optimized page loading speed, and other SEO best practices.
Plugin Compatibility: Compatibility with popular WordPress plugins allows users to extend the functionality of their website. Themes should support essential plugins like contact forms, social media integration, SEO optimization, caching, and security.
Browser Compatibility: A theme should be compatible with major web browsers like Chrome, Firefox, Safari, and Edge. This ensures that the website displays correctly and functions well across different browsers, providing a consistent experience for all visitors.
Regular Updates and Support: A reputable theme should receive regular updates to address security vulnerabilities, add new features, and maintain compatibility with the latest version of WordPress. The theme developer should also provide timely support to address user queries and issues.
Good Performance: A lightweight and well-optimized theme contributes to fast page loading speed and overall website performance. This improves user experience, reduces bounce rates, and positively impacts SEO rankings.
Translation and Multilingual Support: If you have an international audience, look for a theme that supports translation plugins or is multilingual-ready. This allows you to easily translate your website into different languages.
Documentation and User-Friendly Interface: Clear documentation and a user-friendly interface are essential for users to easily understand and navigate the theme's features. Good documentation should include instructions on theme installation, customization options, and troubleshooting common issues.
1. Astra
Nowadays one of the most popular, lightweight, and speedy themes is Astra. It has gained huge popularity among WordPress users. Astra provides a library of starter templates. These templates help to save time and make website design easier and more user-friendly with the help of pixel-perfect, ready-to-use demos.
You can use this highly customizable theme to build all kinds of websites like food blogs, e-commerce stores, business websites, and so on. This visual theme customizer supports creating a well-designed website that fits your brand identity. As it provides an easy process to change the layout, colors, headers, and blog design.
Astra provides SEO-friendly makeup to make it easier for improving your search engine ranking. You can instantly make your site accessible to all types of users and follow the WCAG 2.0 standards.
Key Features for Astra
Gutenberg block page editing
Built-in WooCommerce module (pro version)
Global style settings
Create web stories for showcasing content
2. NextLand
One can modify a website as effectively as feasible by using a powerful theme like NextLand. It improves the website's aesthetic appeal. The website gains coherence and attractiveness with a well-designed theme like NextLand. Visitors are left with an impactful and favorable impression. It enables modification of a website's overall design, resulting in a distinctive and recognizable brand identity.
The theme simplifies the customization process. It offers pre-built structures and functionalities, saving time and effort in development. It often comes with a range of customizable options, allowing you to easily modify colors, fonts, images, and other design elements without extensive coding knowledge.
Key Features:
Supports a huge number of customing options.
Adjusts its layout and design to ensure optimal viewing and functionality across various devices and screen sizes.
Integrate with popular page builders like Elementor, Divi, or Beaver Builder enables users to create complex layouts
Compatible with popular WordPress plugins that allow users to extend the functionality of their website.
Compatible with major web browsers like Chrome, Firefox, Safari, and Edge.
A lightweight and well-optimized theme that contributes to fast page loading speed.
Clear documentation and a user-friendly interface
3. Divi
Divi is a WordPress Theme with a drag-and-drop visual editor that simplifies the building process. It also works as a multipurpose website builder. It offers a huge number of customization options with a lot of layouts, and 40+ website elements like call-to-action, sliders, blogs, testimonials, forms, and galleries.
Divi layouts are responsive by default, but you can go one step further by customizing how each element appears on various devices. This involves modifying font size, letter spacing, line height, and other elements to ensure they look fantastic on any screen size.
Key Features for Divi
Visual Builder for front-end.
Create page templates with the theme builder.
Modules of 200+ designs.
Around 2200+ professionally designed layouts.
Compatible with popular plugins.
Offers no-code design visual builder.
Provide bulk-editing modules, keyboard shortcuts, global style settings etc.
4. Themify Ultra
Ultra from Themify is one of the most flexible and powerful WordPress themes. It provides a huge collection of pre-made websites along with 60+ pre-designed layouts, you can also create as many layouts as you want. It also allows you to use a drag-and-drop builder.
Themify Ultra offers plenty of customization features such as the option to display animated background colors, add filters to your images, include a portfolio of work, and enable section scrolling.
Key Features:
A huge number of premade demo layouts.
Uses a proprietary builder plugin.
Provides front-end page editing.
Over 40 professionally designed layouts.
Allows to create modules with 60+ animation effects.
Custom styling for background.
Global styling options.
5. OceanWP
OceanWP is a free theme that provides you with a cost-effective way to build a highly professional website. The theme is lightweight and super easy to customize. If you are running more than on a website, you can also upgrade to one of the paid plans. The theme allows you to create a website that can represent your brand. It helps to create a balanced color and typography that can cope with your brand.
OceanWP offers e-commerce customization and features. These features allow you to build a convenient and seamless shop. Use OceanWP to install demos easily, enable SVG support, add Google reCAPTCHA, integrate Mailchimp, enable Adobe fonts, and add plugins.
Features:
It offers free header styles.
Compatible with WooCommerce.
Provides 220+ premade layouts.
Compatible with page builders Elementor and Gutenberg blocks.
A huge number of layout options for multiple pages, headers, and blog layout options.
Compatible with extra plugins.
6. Hestia
Hestia provides an SEO- ready structure. It also enables you to set up a site with a good chance of ranking high on Google SERP. The plugin is compatible with most of the plugins and page builders.
Key Features
Compatible with most page-builders.
With the WordPress Customizer control theme settings.
WooCommerce- specific layouts.
Advance Woo-Commercer options.
Allows to configure the header, footer, page layout settings, and global options for typography, colors, etc.
7. Inspiro
Inspiron is a theme that emphasizes images and video, making it the perfect choice for people who wish to showcase movies and slideshows on their homepage. Both Vimeo and YouTube, as well as self-hosted videos, are supported by the full-screen slideshow. Additionally, it provides a portfolio module with multi-page themes for displaying your work. This makes it a fantastic choice for displaying your portfolio, whether you're a designer, photographer, videographer, or artist.
With pre-built pages for Services, Contact, About, and other topics, Inspiro helps you save time when creating your professional website. And Elementor makes it simple to change these pages quickly. choosing the Customizer, you may further customize your site by choosing the colors and fonts of your choice.
Key Features:
Adds a custom post type for a portfolio
Using Elementor or Gutenberg
Guide to Getting Started
Options for live theme customization in WordPress
Compatible with Gutenberg, Elementor, or any other preferred page builder plugin.
Slideshows of images and movies may be added, videos can be incorporated into portfolio items, and WooCommerce support is available
Final Word
The 10 best premium WordPress themes in 2023 offer an exceptional combination of aesthetics, functionality, and ease of use. Whether you're a business owner, blogger, or creative professional, these themes provide the tools and flexibility needed to create a captivating online presence. Explore their features, demos, and user reviews to find the perfect theme that aligns with your website's goals and vision. Embrace the possibilities and elevate your website's design and performance with these premium WordPress themes in 2023.
These premium themes offer stunning designs, responsive layouts, and customization options that allow users to create unique and visually appealing websites. They prioritize user experience with compatibility with popular page builders, ensuring easy customization without coding knowledge. The themes also prioritize performance with SEO optimization, browser compatibility, and fast loading times.