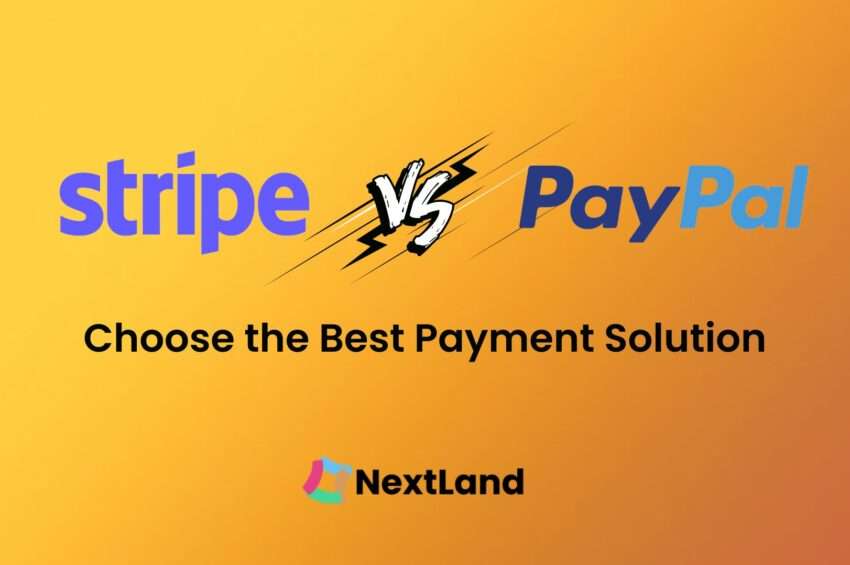 Stripe vs. PayPal: Which One is Better for Online Payment?
With the rapid growth of e-commerce and online businesses, having a reliable and secure online payment gateway is essential. When it comes to processing online payments, two names stand out as major players in the industry: Stripe and PayPal. Both of these platforms offer seamless payment processing, but they have different features, fee structures, and target audiences.
In this blog, we'll dive deep into the comparison between Stripe and PayPal to help you decide which one might be better suited for your online payment needs.
What are Stripe and PayPal?
Stripe: Technology company Stripe was established in 2010 to offer internet businesses payment processing solutions. It is renowned for its approach that is developer-friendly, strong APIs, and simple integration possibilities. With the support of different payment methods like credit/debit cards, digital wallets, and regional payment methods, Stripe enables businesses to take payments from clients all around the world.
PayPal: PayPal, one of the first companies to offer online payment services, was founded in 1998. It began as an eBay payment gateway but quickly grew to become a well-known global platform for online payments. Customers can use their credit/debit cards or PayPal accounts to make payments through PayPal, which provides a user-friendly interface.
Significance Of Online Payment System Stripe And PayPal
Both the widely used online payment platforms Stripe and PayPal have a number of benefits for both customers and businesses. The decision between Stripe and PayPal generally depends on the particular requirements of a business. Both companies play significant roles in the e-commerce ecosystem. To give their clients more payment options, some companies can even decide to merge both payment systems.
Let's explore the importance of each system:
Importance of Stripe:
User-Friendly Integration: Stripe makes it simple for businesses to integrate the payment system into their websites or mobile apps due to an intuitive API and thorough documentation.
Global Reach: Because Stripe accepts payments in many different currencies and is accessible in many nations, businesses can increase the size of their consumer base globally.
Security: Stripe is Payment Card Industry Data Security Standard (PCI DSS) certified and takes security very seriously. It securely manages critical payment information, lowering the danger of data breaches for companies.
Flexible Payment Options: Stripe accepts a range of payment options, such as credit and debit cards, electronic wallets like Apple Pay and Google Pay, as well as alternative payment methods in particular geographic areas.
Subscriptions and Recurring Billing: Stripe is the best option for companies with subscription-based business models since it provides powerful features for managing subscriptions and recurring billing.
Fast Payouts: Stripe enables speedy cash access for businesses by offering swift payouts to merchants, often within a few days.
Importance of PayPal:
Brand Recognition: One of the most well-known and dependable online payment systems worldwide is PayPal. PayPal has a higher level of consumer comfort for online transactions, which can increase conversion rates for businesses.
Wide Acceptance: Because PayPal is linked into so many e-commerce platforms and accepted by so many online businesses, it is a practical payment alternative for consumers.
Buyer Protection: PayPal provides buyer protection, enabling customers to feel secure about their purchases. PayPal may be able to assist in resolving disputes between buyers and sellers if there is a problem with a transaction.
Mobile-Friendly: Due to PayPal's significant presence in mobile payment solutions, clients can easily make purchases using their mobile devices.
One-Touch Checkout: By streamlining the checkout process with tools like One Touch, PayPal reduces cart abandonment rates and enhances customer experience in general.
Cross-Border Transactions: Because PayPal users may send and receive money abroad, it is a useful tool for companies and people with ties around the world.
Comparison Between Stripe And Paypal
Payment solutions that are secure, seamless, and effective are desired by both businesses and consumers. Stripe and PayPal, two of the biggest names in the online payments sector, have become the preferred platforms for processing online transactions. Their broad use and extensive range of feature sets have completely changed how we do internet business.
Let's explore the key distinctions between Stripe and PayPal with regard to user experience, global accessibility, security measures, supported payment methods, subscription processing, payout efficiency, buyer and seller protection, and their overall impact on the fast-changing e-commerce landscape.
Payment Methods and Supported Currencies
Stripe: The large number of supported payment methods and currencies is one of Stripe's key advantages. All significant credit cards, including Visa, MasterCard, American Express, Discover, and more, are among those that can be used by businesses to make payments. Furthermore, Stripe offers support for electronic wallets like Apple Pay, Google Pay, and Microsoft Pay, which can improve the user experience for users of these platforms.
Additionally, Stripe offers support for over 135 different currencies, making it a desirable option for companies with a global clientele. It streamlines the process of carrying out international transactions and makes it possible for companies to bill clients in their home currencies.
PayPal: Credit/debit cards are one of the payment ways that PayPal accepts, but its PayPal wallet system is where it really shines. Users can link their bank or credit card accounts to PayPal accounts, which makes it simple to make payments without continually entering their card information. Customers may, however, choose not to open a PayPal account, which might result in cart abandonment for companies that only use PayPal.
PayPal is accessible in over 200 countries and supports over 25 different currencies. This is still significant, but for companies with genuinely worldwide reach, Stripe's services might be more complete.
Developer-Friendly APIs and Customization:
Stripe: Stripe is well known for its comprehensive documentation and developer-friendly APIs. Developers may easily include Stripe's payment gateway into their websites or mobile applications to give users a seamless and personalized payment experience. Additionally, Stripe supports numerous programming languages, making it flexible and available to developers anywhere.
Businesses that need a more customized payment solution or have certain compliance requirements can benefit greatly from the level of customization that Stripe provides. It guarantees that clients have a consistent brand experience while giving developers more control over the payment process.
PayPal: Although PayPal offers developers APIs as well, some may feel that Stripe's integration process is slightly simpler. PayPal has a variety of customization possibilities, although Stripe may be more flexible in some ways. Businesses that need a high level of control and customization over their payment process may want to take this under serious consideration.
User Experience:
Stripe: Customers enjoy a simple checkout process thanks to Stripe's user-friendly and seamless payment flow. Businesses can keep their branding and provide a consistent customer experience throughout the payment process due to PayPal's configurable checkout pages. Additionally, Stripe's "Elements" functionality makes it simple for developers to create responsive, mobile-friendly payment forms.
PayPal: The user interface of PayPal is renowned for being straightforward and simple to use. Customers with PayPal accounts can make purchases with just a few clicks, eliminating the need to repeatedly enter their credit card information. The checkout process, however, could be more difficult for certain consumers without PayPal accounts because they might need to set up an account before making a purchase.
Fees and Pricing:
Stripe: Stripe's pricing structure is straightforward. It charges a flat fee per transaction, which is typically around 2.9% + $0.30 for online transactions. There are no setup fees or monthly fees. Stripe also offers volume discounts for businesses with high transaction volumes.
PayPal: PayPal's fees can be a bit more complicated. The standard fee for online transactions is also around 2.9% + $0.30. However, the fee may vary based on factors such as transaction volume, currency conversion, and the country of the seller and buyer. Additionally, PayPal has a tiered fee structure, which means the more transactions the business processes, the lower the transaction fees become.
Security and Fraud Prevention:
Stripe: For Stripe, security comes first. To protect sensitive payment data, it offers strong security methods like encryption, tokenization, and two-factor authentication. Additionally, organizations' risk of chargebacks is reduced because of Stripe's machine learning algorithms, which help identify and stop fraudulent transactions.
PayPal: PayPal is renowned for its robust security protocols. The likelihood of disputes and fraudulent chargebacks is decreased because it provides consumer and seller protection. The real-time analysis of transactions by PayPal's fraud detection technology enables it to spot unusual behavior and stop possible fraud.
International Support and Compliance:
Stripe: As was already said, Stripe is a great option for firms that operate internationally because it supports over 135 different currencies and localized payment methods. The process of growing your business internationally is further made easier by Stripe's availability in many nations and compliance with numerous foreign standards.
PayPal: With availability in more than 200 countries, PayPal has an amazing global footprint. PayPal's services might be restricted in some nations, and its currency support might not be as extensive as Stripe's. Companies should carefully verify if PayPal is compatible with the nations and currencies that are important to their operations.
Customer Support:
Stripe: Stripe offers phone, email, and live chat customer care. Although it provides assistance for technical problems and questions about accounts, some customers have complained that the response time for non-urgent situations can be a little slow.
PayPal: PayPal provides customer service via phone, email, and a detailed Help Center. They have specialized teams to handle various problems, such as concerns about buyer and seller protection. Like any major business, the level of help provided may differ based on the circumstances and location.
Dispute Resolution:
Stripe: Stripe features a clear dispute resolution procedure designed to safeguard both consumers and sellers. In the event of a disagreement, Stripe offers the necessary resources and information to assist businesses in resolving problems and successfully handling chargebacks.
PayPal: PayPal also offers a dispute resolution procedure that aids in mediating disputes between buyers and sellers. However, several companies have voiced worries about PayPal's bias in favor of purchasers, which can result in disputes being decided in the buyer's favor even when sellers have strong proof.
Final Words
when deciding between Stripe and PayPal for online payment processing, there is no one-size-fits-all answer. Both platforms have distinct strengths that cater to different business needs and customer preferences.
Stripe excels in its developer-friendly integration, global reach, and flexible payment options, making it an excellent choice for businesses with complex payment structures and a desire to expand internationally.
On the other hand, PayPal's widespread recognition, buyer and seller protection, and ease of use make it a compelling option for businesses looking to build trust with customers and conduct straightforward transactions.
Ultimately, the best choice depends on your specific business requirements, target audience, and growth aspirations. Many businesses find success in offering both Stripe and PayPal as payment options to provide a seamless and convenient experience for their customers.
Whichever option you choose, embracing the power of these leading online payment systems will undoubtedly streamline your financial operations and enhance your overall e-commerce journey.