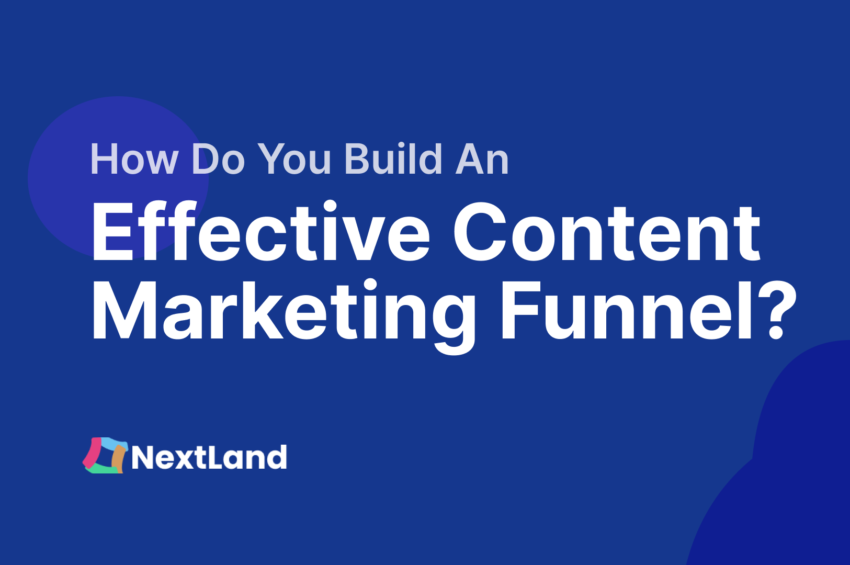 How Do You Build An Effective Content Marketing Funnel?
In today's digital age, content marketing has become an important part of any successful marketing strategy. But creating content alone is not enough to drive business growth. To effectively reach and engage your target audience, you need a well-defined content marketing funnel.
A content marketing funnel is a system that guides potential customers through the buyer's journey, from awareness to consideration to conversion. In this blog, we will explore the key components of an effective content marketing funnel and provide practical tips for building one that drives results.
Whether you are new to content marketing or looking to improve your existing content marketing strategy, this blog will give you the insights you need to create a successful funnel that generates leads, builds relationships, and drives revenue.
What Is Content Marketing?
Content marketing is one of the most effective marketing strategies. Its main goal is to attract and engage audiences by creating relevant articles, videos, podcasts, newsletter, social media posts, emails and other media.
A content marketing strategy works on boosting and improving a business. This process always earns customers trust and makes your brand more loyal and popular.
The amazing process of development and distribution of relevant, useful content represents your company and makes a brand of your business.
Content marketing process is able to attract a huge number of audiences and turn them into active customers. So effective and relevant content can build a clear and strong bonding between your business and audiences. Profitable customer action like purchasing, signing up for a newsletter or following social media accounts is the positive sign that is the result of perfect content marketing
Content marketing is not like traditional advertising. It is a strategy of digital marketing which needs internet and social media marketing. Relevant content provides useful information, entertainment, or inspiration, clear information about product and company, promotion etc which can gain customer loyalty largely.
Successful content marketing requires a deep understanding of the target audience, a well-defined content strategy, and a commitment to creating high-quality, engaging content on a consistent basis.
What Is An Effective Content Marketing Funnel?
A effective content marketing funnel enables content marketers to see how to use already-existing information to draw potential customers and lead them on a journey until they reach the desired outcome.
A content marketing funnel helps content marketers to understand the existing content to attract audiences and support them to reach their goal by creating relevant content. It helps the content marketer to have a clear vision on their motive of content, faults, demands, gaps etc regarding the content which lets them create workable content to boost their purpose.
Content marketing funnel helps the marketer to reach their goal smoothly. The final goal of content marketing is increasing sales, improving conversion rate, increasing more website traffic, collecting leads, attracting attention of customers etc. It's usually a bigger and essential part of content marketing strategy.
Let's briefly explain the stages of the content marketing funnel:
Top of the funnel (TOFU): attracts attention
Middle of the funnel (MOFU): generates leads
Bottom of the funnel (BOFU): drives conversions
Keep your eye on the following lines of this blog to know briefly about the stages. It will definitely help you to know about what type of content can grab the attention of customers more and create a strong relationship with them
Let's explore the stages of the content marketing funnel
Top Of Funnel Content
The top of the funnel is the most popular stage as it is the starting point of a content creators journey. You can also say it is an awareness stage as it mainly focuses on attracting attention.
People who are not ready to buy yet or they may not know about your company are the main target audience of this stage. As a content marketer your goal is to attract their attention and let them know about your product and company smoothly. You should create content that has a clear answer and vision so that your audiences and customers can know about your company and have a positive vision about your brand.
The Audience's target is to know about the information that will help them to solve a particular problem, execute a task or learn something new about your company and product.
Your goal is providing content which may contain information that can solve a problem or audience queries and by doing this they have to convert into your target audiences who will know about your business and website. This will generate brand awareness, demonstrate your expertise and build authority.
Typically, TOFU is evaluated using the following metrics:
Traffic sources such as organic, referral, and overall
Engagement on social media (shares, comments, and likes)
media and influencer mentions
Metrics measuring on-site engagement (bounce rate, time spent on page)
subscriptions to newsletters and social media
The most effective content for this level is typically more instructive and offers something of value that encourages visitors to your website.
Here are the types of content that work best for top of the funnel:
Guides
Landing pages
Ebooks
log posts
Checklists
Cold emails
Contests
Infographics
Podcasts
Postcards
Quizzes
Social media posts
Top-of-funnel content tips
Execute keyword search: As users or audiences are not yet aware of your brand so search engines are the main source from where they can learn about it. So it is very important to pick the correct keyword. If your keyword is not relevant then your content will not rank and reach the target audiences. To get found easily do the right keyword research and cover all the important on-page SEO.
Limit your use of self-promotion:. Your main target is informing about your brand and establishing credibility. In this case excessive CTAs and irrelevant free tools and links can decrease your content quality and your sincerity may be questioned because of that. So you have to do self promotion sincerely and let the audience have a positive thinking about your brand.
Focus a lot on the blog: Blogging is the most effective way of content marketing. Focus on creating useful and unique blogs to attract your audiences and turn them into active customers.
Middle of the Funnel (MOFU)
Middle of the funnel (MOFU) is the stage of interest and consideration. In this stage people or customers already know about your brand and product. They are searching content about your products or services and reading customers reviews.
That means your target audience is now aware about your business and they are interested to know more and also interact. They are ready to make bigger commitments, signing up for a webinar, engaging with longer- form content. They are also interested in your offerings, testimonials, newsletters, email etc.
The customer's goal is to learn more about your product, company and solution you provide. Your target is to educate the customers about your brand and offers. And you have to boost your business by providing effective content. You need to discuss new updates and other features, offers, etc in your content.
MOFU content generates the most traffic from organic search. It also increases conversion rates and active leads.
In this stage, the commonly used content types include:
Product overviews
Case studies
Landing pages
Webinars
Benchmark reports
Comprehensive guides
Free tools
Newsletter emails
Provider comparison posts
Middle-of-funnel content tips
Self-promotion is encouraged: It's acceptable to include calls to action and promote your product or service in this kind of content.
Adapt top of the funnel content: You can verticalize your material to make it more specialized or mix blog articles and checklists to create a more substantial service.
A little friction is beneficial: The people who are truly interested are the ones who will spend the time to complete a two-step form or provide.
Blogs are important: The majority of the time, blogs are thought of as top-of-funnel content, and this is generally true. However, there are still a lot of keywords that can be targeted with long-form material, which I would classify as mid-funnel.
Bottom-of-funnel content
Bottom of the funnel (BOFU) is the intent, evaluation, and conversion stage. The stage is for those customers who know about your business and products and are ready to purchase but still need some information or guidance. Buyers are ready to move forward with their purchasing decision.
The customer's target is confidently choosing your product and making the decision of purchasing as they have already learnt about the particular product/service they choose.
Your main task is to obviously convince the customers to make a purchase and clear all issues if there is any objection or hesitation. You also focus on the guidance about the ways of purchasing and using the products.
The bottom-of-the-funnel stage is the last stage where content can help to boost your brand, build trust, and accelerate the purchase.
The content types for the BOFU stage are presented here:
Product overviews
Customer reviews
Success stories
Case studies (can also be mid-funnel)
Comparison tools/sheets
Product page
Pricing page
Bottom-of-funnel content tips
Hyper-target: All of your content should be written for your target audience, but at this point in particular, it should be tailored to a prospect's extremely specific customer and even customized for them .
Copywriting is crucial: Every aspect matters since the prospect is now analyzing everything! To make the most of this information, use how to write a copy that is convincing.
Frequently test these pages: Make sure that these pages lack pop-ups or other widgets that may disturb or interrupt the experience, and experiment with different call to action verbiage, information presentation, and page layout.
Final Words
Building an effective content marketing funnel is an essential component of any successful marketing strategy. By creating a system that guides potential customers through the buyer's journey, you can generate leads, build relationships, and drive revenue.
To build an effective funnel, it's essential to understand your target audience, create high-quality, engaging content, and optimize your funnel for conversion. With the right approach, a content marketing funnel can be a powerful tool for growing your business and achieving your marketing goals. So, take the time to develop a funnel that aligns with your business objectives and continuously monitor and refine it to ensure it's delivering the results you need. With commitment, creativity, and persistence, you can build a funnel that drives results and helps your business thrive in today's digital world.